---
Everyday is a beautiful day and the "Everyday Counts" flower arrangement is a beautiful bouquet featuring vibrant lilies, roses, gerbera daisies, alstroemeria, and snapdragons in shades of pink, orange, purple, and yellow.

The "Everyday Counts" flower arrangement has a comforting, cozy aroma that is perfect for celebrating an anniversary, birthday, or any other occasion.

We recommend pairing the Everyday Counts arrangement with our delicious truffles, Spa Package, or Voluspa candles for a truly special gift.

And as a local florist, we'll take care of same-day flower delivery or next-day flower delivery across the Dallas Fort Worth metroplex. Order now to show how much they mean to you!


Orientation : One-Sided

All prices in USD ($)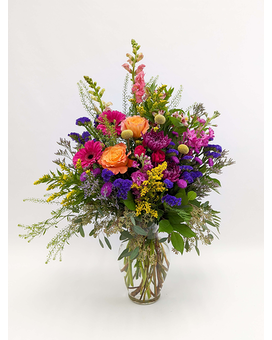 Everyday Counts - $120.00