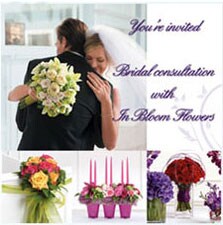 We understand that weddings are very personal and each one unique. With over 20 years' experience, In Bloom Flowers is Dallas/Ft. Worth's premiere florist. We specialize in one-of-a-kind designs that reflect your individual style, personality, and budget.
One of our professional florists will meet with you, one-on-one, for a complimentary consultation to discuss your individual needs.
Take a look at our photo gallery to see what we have designed for other brides.
We consider it a privilege to be included in your special day. Feel free to contact us by phone, or use our on-line consultation request form, and a design manager will contact you to set an appointment.