This item is
Temporarily Unavailable
---
Looking for a gift that will leave your loved one's heart bursting with joy? Say "you're amazing", "congrats", "thank you", or "get well soon" with In Bloom Flowers' "Luxury Dozen Pink Roses" Perfect for any occasion, these 12 long stem blush pink roses and fragrant stargazer lilies will leave a lasting impression.

Don't settle for ordinary, go for extraordinary with In Bloom Flowers. In Bloom offers same-day delivery for pink roses in the DFW area, or you can visit one of our local flower shops in Plano, Carrollton, and Arlington for in-person pickup.

And don't forget to browse our handpicked collection of artisanal chocolates, cuddly stuffed animals, and other delightful goodies to transform this gift into an unforgettable experience!


Orientation : All-Around

All prices in USD ($)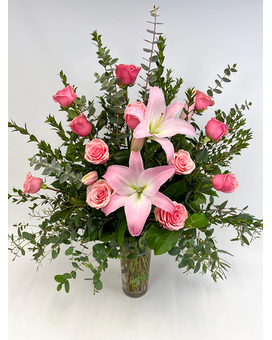 As Shown - Pink - $155.00